Molly Jackson
Client Services Specialist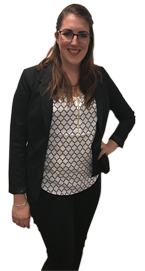 At the tender age of 16, Molly's grandmother made a prediction, "You will make an excellent event planner!" Organizing family outings, color coding the pantry and a constant desire to take care of others were the factors that impressed Grandma. Sure enough, Molly was smitten with the hospitality bug and now predicts for herself that event planning will be her lifelong passion!
A graduate of the University of New Hampshire's Peter T. Paul Business School, Molly has worked in many facets of the event industry including years as a wedding planner for a private company in Portsmouth, NH and several positions in the Boston hotel industry—which gained her insider knowledge of the city.
Clients appreciate Molly's personable warmth, can-do attitude, unflappable nature and prescient ability to always be within sight for questions in crowded event spaces. As an energetic and connected planner, she gives back by serving on the Board of Young Hospitality Professionals. This group of savvy graduates works closely with the International Hospitality Advisory Board to foster professional growth and development of future leaders in the industry.
Outside of work you will find Molly trying new restaurants with friends, reading just about any mystery novel, color coding everything, and consuming medically inadvisable amounts of coffee. If you need a shot of Java anywhere in the city, just ask Molly!