We are often asked what we do differently than our colleagues in the field of event management. Though there are many possible answers, one in particular springs to mind: we innovate. We aren't content to simply re-create past events that delighted clients. Rather, we design events tailored to achieve and execute each unique client's unique vision. This was recently recognized when we traveled to Montreal to accept the Association of Destination Management Executives International (ADMEI) prestigious award, "Best Innovative Event Under $50,000."
We designed this event for a client that wanted a highly interactive, personalized Boston experience for their group of West Coast CEO's and spouses. We made sure to give the guests a once-in-a-lifetime-experience, while also educating them about some of the best aspects of our city. This evening's event, Back to College: Field Trip to the Aquarium, was set in the stunning New England Aquarium, overlooking the Boston Waterfront. Both education and interaction played a key role in the evening's festivities. The guests kicked off the night with a made-for-mingling cocktail reception among the Aquarium's famous jellyfish tanks.
That amazing backdrop set the scene for an unforgettable evening.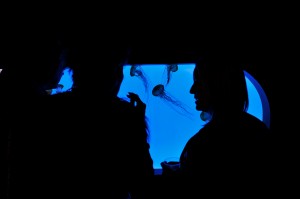 Cocktail hour included an interactive lesson from an aquarist. The group was encouraged to touch and explore sharks and rays. These California entrepreneurs overcame any apprehensions and were soon eagerly plunging their hands in the water.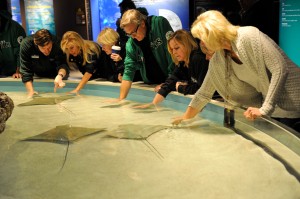 Next, they gained firsthand experience shucking oysters and cooking lobsters with our award-winning dynamic and charismatic chef. Who knew these LA natives could cook up New England seafood with such panache!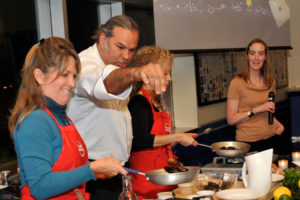 We used technology to our advantage throughout the evening. We had the chef plate the meal next to a QR code he created with squid ink, which guests could scan with their phones. With one click they tracked their sustainable fish from fisherman to table, including the bicycle delivery from the dock to the aquarium!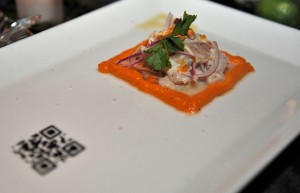 That dynamic evening was just one facet of a weekend spent exploring the history, industry, and nightlife of the city of Boston. In the words of our client, "You went above and beyond, anticipating our every need and graciously facilitating three days of highly customized activities. Our guests were thrilled…" Though the satisfaction of our guests is worth more than any award we could receive, the recognition of our industry colleagues is a very nice bonus.